November 25, 2014.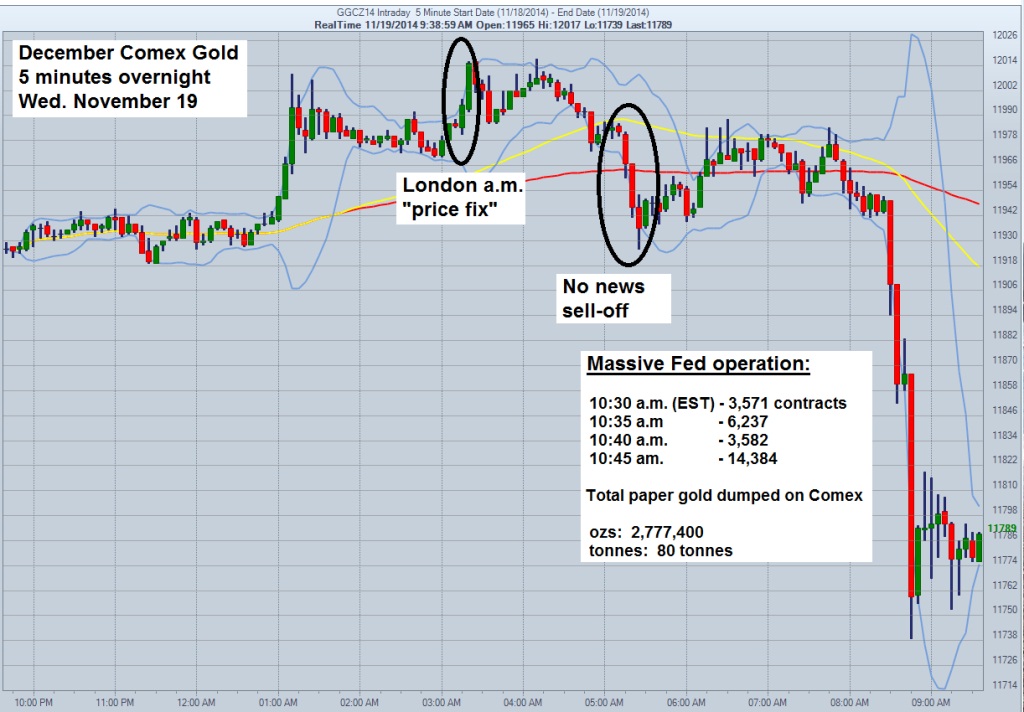 Image source
Please go to the article and read the whole thing. It's very long... in part because these financial analysts, economists and commentators have NEVER seen this behaviour in the gold and silver markets before. It's a bit to wade through, but very much worth it. The banksters could be shutting up shop in as little as 48 hours. That's sure the way it looks to these authors, on:
"A Major International Monetary crisis is Looming: The Suppression of Gold and Silver? Is Comex being Cornered?"
Bill Holter & Miles Franklin associate writers, Global Research
November 25, 2014.
"This coming Friday is the 1st notice day for both Dec. COMEX gold and silver contracts. COMEX in my opinion has a potentially huge problem where a default in both contracts is a distinct possibility! As of this past Friday, 61,763 contracts still open, this represents 308 million ounces of silver. The COMEX claims a registered (deliverable) inventory of just under 65 million ounces. With only four days left there are roughly 5 silver ounces contracted for every one ounce available!
"The situation in gold has quietly become much worse than silver, there were 162,509 Dec. gold contracts open which represent over 16 million ounces of gold. The "registered" (deliverable) category at the COMEX inventory shows only 868,910 available to deliver! Do you see the problem here? There are only 4 days left until this contract goes into the delivery process, yet there are 20 ounces contracted for each ounce available! I have one other amusing thought for you, remember the 80 tons sold in 15 minutes last Wednesday? This was almost 2.8 million ounces compared to a deliverable inventory of just 869,000 ounces, in my opinion, "FRAUDULENT" in capital letters!
"Yes I understand, there are still four days left for the open interest to bleed down and roll out to the next contract month but we now stand in totally uncharted territory. Never in the past has this much open interest been still outstanding with deliverable inventory as low as it is. It is also astounding that total open interest could have risen to these levels while the price dropped. For open interest to increase and the price to drop, the "initiation" to the opening of contracts has obviously been done by sellers. This is exactly what I have been saying all along, the dropping price has been dictated by paper sales of COMEX contracts …but now there is a problem. So much paper has been sold to dictate the price that the contracts outstanding simply dwarf the available metal to deliver. Put another way, COMEX gold and silver look like they have been cornered! Let me rephrase this, COMEX gold and silver are now "very cornerable". We will know shortly if this is true and "who" did the cornering. I suspect we will find out that this has been a Chinese/Russian hand holding consortium and one that was carefully planned and done within legal bounds. I think we will find out they in fact did play by the West's rules and it was the "sellers" of nonexistent metal who fell into their own price fixing trap. It has been a financial war, one that was declared by the West and looks to have been possibly won by the East."
- B. Holter, M. Franklin