We must keep telling the world about this case... The
Hampstead Cover Up
. This case is the key that unlocks the door and will bring the downfall of the KonTrollers in this world. There is nothing more powerful than the innocent testimony of two young children.
Tell the world
. This is the way for humanity to break free of the stranglehold the
Babylonian Black Magicians
have over us, by helping the world to wake up to what is really going on and who currently has control (the global Satanic agenda that runs politics, the military, the media and the money systems), and how they do it, and why... Thank you.


Video: Hampstead WhistleBlowers Fear Is The Mind Killer Info/Research
Published on Dec 16, 2015
WARNING: This video contains content you may not want to see or hear so please be very careful about viewing it. The Christ Church Primary School in Hampstead UK and the Satanic Sex Cult Within.
Video URL:
https://www.youtube.com/watch?v=eOR1lP0Qg2k
Please Search these topics on this blog (Co-creating) for much more about this case:
Hampstead, Satanic cult, Satanists, Molech, CSA, SRA, Child abuse, child sexual abuse, pedophilia, paedophila... and so on
Supporting article:
Satanic Pedophilia Network Exposed in Australia
This is a very good article
February 20, 2016
which confirms everything Alisa and Gabriel have said about their situation.
Alisa (9) and Gabriel (8) had their testimonies video-recorded by their mother Ella Gareeva (a Russian expat living in London, UK) and Abraham Christie, Ella's new English boyfriend of 4 months at that time (since May 2014). The children's testimonies were recorded over the period, late August to mid-September 2014.
These video recordings were realeased by proxy via "McKenzie Friends" lay Legal Adviser,
Sabine McNeill
. The hour-long recording that was produced, being a compilation of these video testimonies of the children, was released by other independent whistleblowers on YouTube on Feb 4, 2015 and Feb 8, 2015. McNeill faces charges this month at the RCJ in London on February 25, 2016 I am given to believe... (unconfirmed), for releasing sensitive material which automatically has UK *Family Court "Protection Orders" on them, by virtue that the information is being heard in Family Court. As a consequence of those videos being released on YouTube and all over the Internet, the children's mother Ella Gareeva was forced to leave the UK late one night in mid-February 2015, when police came to her and Abraham's home in Hampstead London UK with the intention of arresting her. Ella Gareeva was never consulted by McNeill about the release of the videos. Ella Gareeva never agreed to the release of the videos.
* The Family Court in the UK is a "closed court". These are not public hearings. Most often, the children's own parents, the children themselves (anyone under 18 years of age), and other people who support the children in their day-to-day lives, are excluded. The lawyers representing the two parties and the judge and other court officials are most often the only agents present for these "hearings" - they're actually "silencings" - and as we all know now, WILL protect high profile people rather than the Natural Rights of the Child to live free from fear and free from harm. If any documentation or "evidence" submitted to the court is erroneous, from the non-offending parents' point of view as is the case for the Gareeva family, the parent is not present to hear such detail and is therefore unable to make clear submission to challenge those erroneous findings. The Family Court system in the UK is entirely corrupt and protects the pederasts who by-and-large prey upon little boys (often preferred) and little girls, who at this time are often returned to the abusive parent or are dislocated from a loving parent and directed into the public foster system of the UK. This has been the outcome for Alisa and Gabriel, ongoing.
The following is not my opinon or supposition. These statements are a summary of events and eye witness accounts that Alisa and Gabriel Gareeva gave in their video testimonies Aug-Sept 2014. These are the situations that Alisa and Gabriel's biological father Ricky Dearman compelled them to participate in. Warning: this subject material is very heavy going... not for young people to view. Thank you.
Ella's ex-partner of some 4-5 years (until c.2008) was Ricky Dearman. It is Mr Dearman who the children have testified as being the primary sexual offender against them - committing acts of sodomy with objects and promotion of penile (penis) penetration upon both the girl and the boy by both adults and primary school aged children: Promoting the indecent exposure of themselves to each other, to Mr Dearman and to hundreds of different adults at varioius times who attend Mr Dearman's "sex parties"; promoting hand to genital contact with each other - brother and sister ("touching"); promoting for children within the Christ Church Primary School (CE) Hampstead community to perform sex acts with each other, including sodomy using phallic objects; committing sex acts and indecencies upon his own children and other people's children himself; allowing other adults to perform sex acts upon his children; permitting the administration of pain-inhibiting drugs (pharmacy drugs) when the children have cried out or screamed out in pain when himself or other adults perform these acts upon the children; the administering of cocaine and other powder drugs to the children; forcing the children to perform sex acts upon himself and other adults including fellatio and cunnilingus performed upon adult women (licking "the middles" as Gabriel (8) so naively describes it); the receipt of (a lot) of money (according to Alisa) from other people who used them sexually, ie: prostituting his own children; involving the children in Satanic ritual circles; forcing them to commit murder (by knife) of living (often drugged) little newborn babies and older babies who were able to sit by themselves as told to us by Alisa in her police interview (ie: 4+ months old babies) - babies and older children even (according to Alisa) who she says were/are trafficked into the UK by Mr Dearman's cult member affiliates and through a network of people all profitteering from such sales of newborn infants, babies and older children; the forced participation of cannibalism, the eating of these "sacrificed" infant newborns, babies, and older pre-school-aged children; the recording of video footage of these children who were part of a community of 20 other children besides, whose parents are all affiliated to Dearman through the "cult" he is/was a leader of; the dissemination of the resulting video showing these ritual sodomite-circle activities and the selling of these videos to a pederasty-craving world-wide audience through the "dark net".
The children were abducted by UK Police on
September 11, 2014
(magic numbers 9/11 once again) after Ella Gareeva (then Dearman) had agreed to let the police interview the children for the purposes of advancing Police inquiries into the allegations they had made against their biological father. The allegations have NEVER been investigated. The two children were removed from the care of Ella Gareeva on that date and put into foster care in the UK where they remain to date.
Here are Abraham's comments on the wider UK situation.
As you can see, he has an extremely good handle as to what's going on: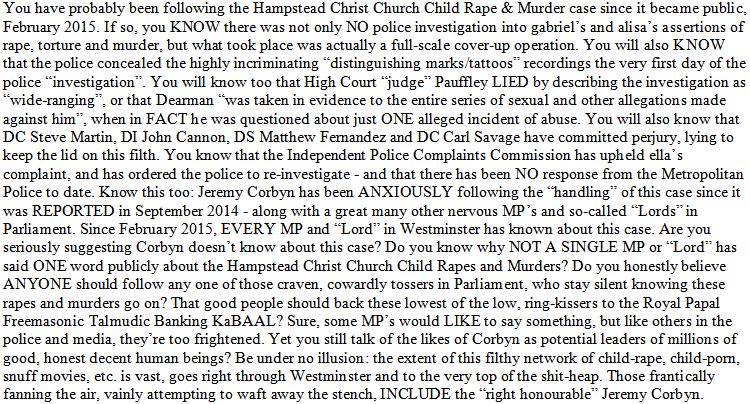 Source
Feb 23, 2016 Twitter post
Listed is a link to the children's mother, Ella Gareeva's
website
. Ella continues to live in exile in her Russian homeland with her English partner Abraham Christie who has supported her devotedly all through this harrowing saga. His devotion is a real testimony to his Goodness. Abe has been attacked on all sides by Ricky Dearman's sock puppets. If Ella were to try to return to the UK to find out the whereabouts of her children, and so on, she would be arrested by UK Police as soon as she tries to re-enter the UK. ie: She has been utterly separated from her two children and they from their loving mother, until such time that public pressure and global awareness changes the current situation of over-riding Global Tyranny... which is why WE the Public need to keep sharing the posts wherever we can and create public awareness of the realith of what's going on. The END of the Global Tyranny is coming faster than any of us realise... We stand at the threshold.
I also add a number of background links from this blog which will further explain the unfolding situation as it was happening (from an observer's point of view) from February 10 last year:
Hampstead Cover Up
- produced by the children's mother Ella Gareeva,
MA in Art History
, Moscow State University.
Satanist, child sexual abuser and pornographer
Ricky Dearman
Ricky Dearman
Demon-strating the Hollywood "One-Eyed Cock Monster" symbolism.
Source: Christ Church (CE) Head Mistress (20??- 2015) Mrs Katie Forsdyke (resigned)
Source: Alisa's drawing of Head Mistress Katy Forsdyke, Richard (Ricky) Dearman and another Christ Church (CE) teacher, Mr Hollings. They are all wearing strap on dildos, which the children in their video testimony refer to as "plastic willies". Ricky Dearman is depicted wearing the infamous "Dildo headdress".
Source